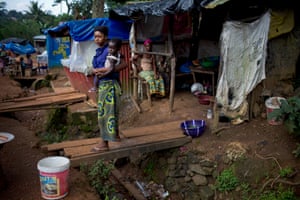 Kadiatu Bangora, 19, lets out a big sigh and stares at the ground ruefully. "I made a mistake," she says.
That phrase, or a variation of it, is repeated as each of the dozen new or expectant unmarried teenage mothers sitting around the table in Sierra Leone's Ministry of Education in Freetown tells her story.
In this conservative society, unwed mothers are frowned on. The girls know they are expected to show a certain degree of penance. They also know they are lucky to be here, having been given a second chance as part of the country's back-to-school programme, which launched last month, to get teenage mothers back into education.
Διαβάστε τη συνέχεια εδώ http://www.theguardian.com/global-development/2015/nov/03/sierra-leone-back-to-school-education-ebola-hope-teenage-mothers